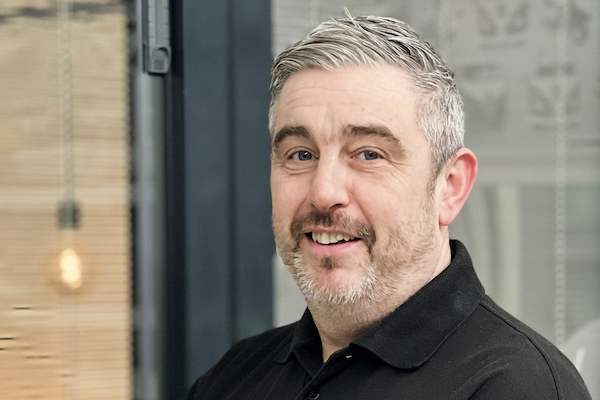 3rd March 2023
MEET OUR FACTORY MANAGER, SIMON
Marking our 25th anniversary by meeting members of our team
To mark our 25th anniversary, we're talking to members of the Lockwood Windows team who've been on our journey since we first set up business in Huddersfield back in 1997.
When we launched the company, we wanted to offer UPVc windows, composite doors and conservatories, using high quality materials along with the latest energy efficient glazing technologies and state-of-the-art secure locking mechanisms.
In this blog we talk to our factory manager Simon, who heads up this important part of our business. Amongst many things, his job is to ensure we create products to our very exacting standards for a wide range of residential and business customers.
So, first off, how did you come to join Lockwood Windows?
I was a uPVC fabricator for another company when Richard approached me to join Lockwood Windows. It seemed like an exciting opportunity, and I liked his vision and ambition for what he wanted to bring to the market.
And what do you like about working at Lockwood?
First and foremost, it's the people I work with. Lockwood is a family-run business with a team playing approach to offering great customer service, so it's the people who make the real difference.
The industry has come a long way since 1997, what changes have you noticed to the way you work?
New technologies mean that the job is constantly changing. I'm always learning new skills with the various new window styles and locking mechanisms, as well as innovations such as energy-efficient glass, composite doors and flush sash windows.
What project has stood out for you?
There's been too many to mention, but each project is unique in its own way. And that's the thing about Lockwood. Every customer is as important as the next. Also, with so many innovations, we're able to make each home look distinctly different based on what the customer wants.
Given that you're at the front end of making the product, what's your advice to customers looking at new windows and doors?
Always look at the product. Don't buy from just what you see online. At Lockwood we encourage people to come to our showroom and see all the various designs and finishes, as well as the locking mechanisms. New windows, doors or a conservatory is a major investment, so it's important to understand the features and benefits of each one. We're big on making sure we know what people want so that we can give them the products to suit their needs and budget.
What trends do you see being popular in the next few years?
At the moment it's all about colours. Once it just used to be white and nothing else, but new technology has now brought a whole new spectrum of non-fading colours to the market. It means we can offer more sophisticated designs and finishes, for both modern and period properties.
So, what's your favourite style or design?
At the moment, I really like the Painswick colour, which is a very on-trend dove grey. And I also like the traditional design of our Edwardian-inspired London composite door.
Related Blogs
Marking our 25th anniversary by meeting the team
REQUEST A QUOTE
To help us get as detailed a picture as possible about your requirements, please complete this form with as much information as you can. The more details you can provide the better!