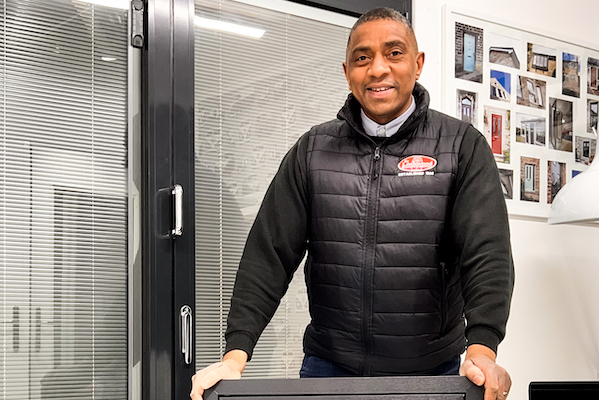 2nd February 2023
MEET ONE OF OUR LONGEST SERVING EMPLOYEES, RAYMOND
25th year anniversary interview with Raymond Simpson, one of our longest serving employees
As we celebrate our 25th anniversary, we chat to Raymond, one of our longest serving employees who joined Lockwood Windows right at its very inception.
Raymond previously worked in the soft drinks industry for Ben Shaws as a Production Supervisor, and then moved on to a double glazing company where he'd been working for 5 years when he met Lockwood founder Richard, who was their biggest client.
When Richard approached me to join his new company it seemed like a great opportunity to be part of something that was starting from scratch. I started working on the manufacturing side to begin with which gave me a real insight into the quality and workmanship of its products."
Given that he's been with Lockwood for 25 years, what does Raymond like about working with Lockwood?
It's a job that brings you into contact with a lot of different people. I really enjoy meeting members of the general public and helping them find exactly what they want. It's really rewarding to give a professional service and to see the feedback that we get after we've completed our installations. I really enjoy the rapport we have with our fitters, and our suppliers. It really is proper teamwork within a family-run business.
25 years is a long time, during which the world has not only seen the explosion of the internet, but also big changes in the technology around windows, doors, uPVC, glass and a movement away from white being the only colour.
There's been so many changes since I started, the biggest of these being the move towards data around energy ratings, as well as energy efficient glass, which came in around 2010. Another big change has been the arrival of colour - we can now offer so many different colour and design options, both inside and out."
Looking at properties around Lockwood's home patch, it's easy to see so many different designs. So we wanted to know what Raymond's trend-watch observations were.
At the moment, the biggest on-trend design is flush sash windows, also known as flush casement windows, which can be installed in either heritage or contemporary properties. Not only do they look really smart, but offer outstanding energy efficiency and security benefits. Understandably, we're getting lots of enquiries for these."
Aside from tackling the changing weather during installation (rain, snow and ice in the winter, and rain in the summer), we wanted to know what the biggest challenges were for Lockwood, and the sector in general.
The real challenge we face at the moment is the rising cost of energy and raw materials. The cost pressures over the past few years have made our great quality and value for money proposition all the more challenging. We offer both bespoke and standard designs, using the latest technology and quality materials, but the factory price of these is on the increase.
And we're also conscious about the impact of the cost of living on our customers, which is why we appreciate that choosing Lockwood represents a big investment, one which we recognise by aiming to deliver an outstanding experience, supported by warranties on glass, fittings and seals ranging from 5-10 years."
With 25 years under his belt we were curious as to what the biggest or most unusual job Raymond had worked on. Without much hesitation he says:
Firstly, there was a 100-property social housing project for the Sadeh Lok Housing Association which came with a challenging deadline. The second was a contract for a luxury homes development at Delamere Gardens in Fixby, Huddersfield. Both were great, large-scale projects to work on, and both were a big achievement to complete."
So, what would Raymond make a bee-line for if he was flicking through our brochure which, you might like to know, is being redesigned, along with a new website, for our 25th birthday.
I'm a big fan of these new flush sash windows. They look so good. Also, I love the Genoa style composite door from the Solidor Italia range, either in Painswick or Anthracite Grey."
And finally, with so much choice and so many options, what's his advice for people looking to replace their windows and doors?
It all starts with a conversation. Come into the showroom, have a look around and talk to us. I'm an advisor, not a salesperson. I'm here to help everyone get exactly what they want for their property - so come down and meet us."
Related Blogs
25th year anniversary interview with Raymond Simpson, one of our longest serving employees
REQUEST A QUOTE
To help us get as detailed a picture as possible about your requirements, please complete this form with as much information as you can. The more details you can provide the better!