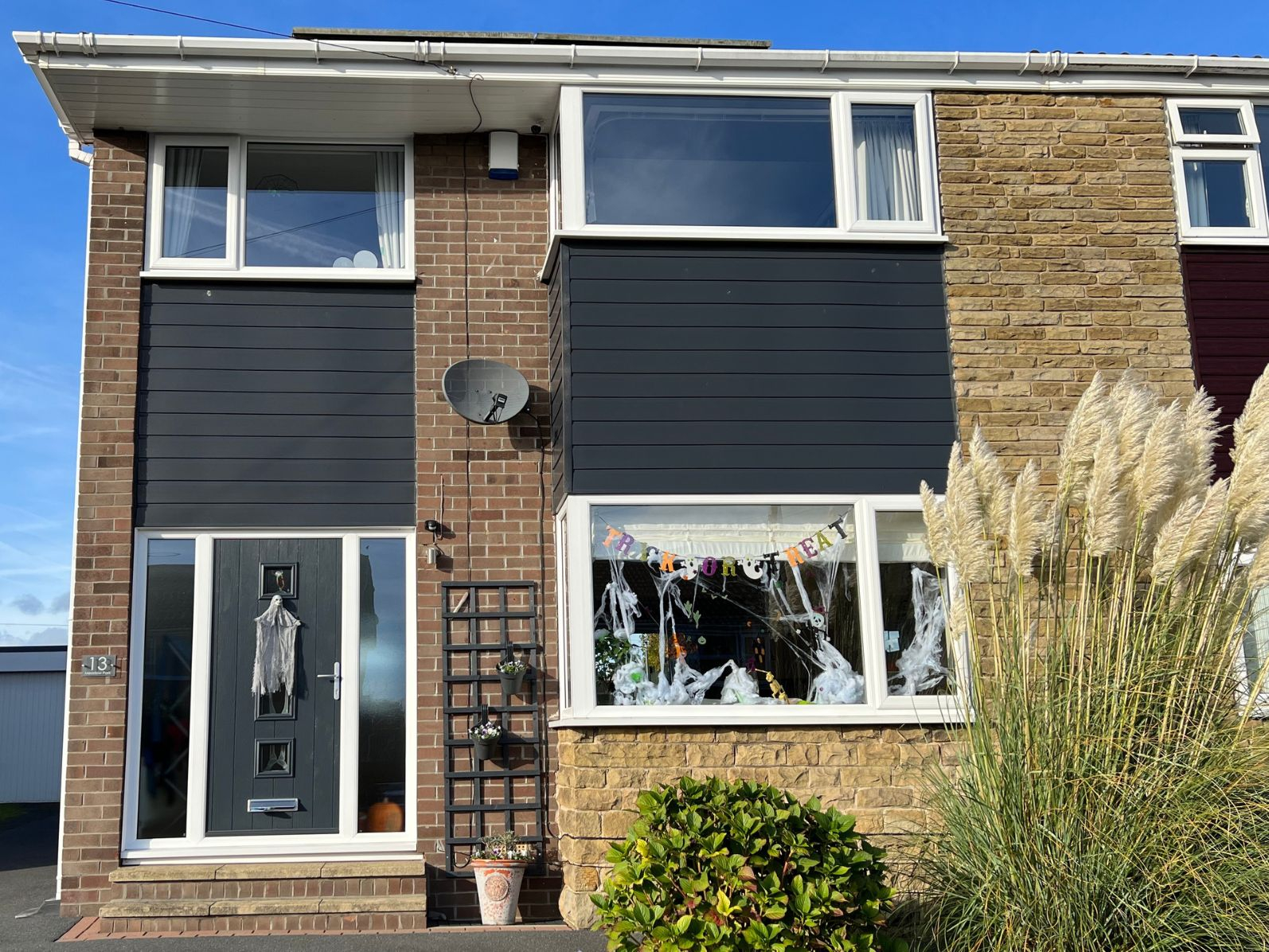 10th October 2023
HAVE A SPOOK-TACULAR OCTOBER: HOW TO SAFELY TRANSFORM YOUR COMPOSITE DOOR THIS HALLOWEEN
Boo! Halloween is around the corner and adorning your composite door and the exterior of your home with Halloween decor can be tricky. But, don't have a fright. With our top tips and advice, you can treat your family and neighbours to a truly ghoulish masterpiece without fear of damaging your doors or windows.
While pumpkins, skeletons, and witches' hats are an essential, there's one often overlooked element that can elevate your Halloween game to a whole new level: your front door. In this spine-tingling blog, we're going to dive right into the art of decorating your home and your composite door for a Halloween that's sure to impress even the ghosts and goblins!

1. The Wicked Welcome Mat:

Every spooky soiree starts with a wicked welcome. Consider laying out a blood-red carpet leading up to your composite door, complete with footprints of "monsters" trailing towards your entrance. Top it off with a sign that screams, "Enter if you dare!" or "Home Sweet Haunted Home" and your guests will feel like they're stepping into a crypt of wonders. A carpet off-cut at your local carpet shop should do the trick - and you can re-use it next year.

2. Ghastly Garlands:

Wrap your composite door frame or uPVC windows in creepy garlands of cobwebs, plastic spiders, and ghoulish ghosts. You can even add a motion-activated sensor to trigger spooky sounds and lights as your guests approach. The more surprises, the better! Never use nails, tacks or staples to attach any decoration to the inside or outside of your windows or composite door. Once the outer skin is scratched, this will allow moisture to seep in and invalidate your warranty. Plus - once Halloween is over and you take down your decorations, you'll find that your previously beautiful composite door is covered in holes! 

3. Haunting Hardware:

Don't forget the door knockers and handles! Cover your existing hardware with something a bit more sinister that can be slipped on and off easily. Try creating bones or fleshy fingers with bubble wrap covered in paper. These small touches make a big impact and show your dedication to the Halloween cause.

4. Spine-Chilling Wreaths:

Who says wreaths are just for Christmas? A Halloween or autumnal wreath embodies the spirit of the season. As discussed, put down the nails and drawing pins as suitable, damage-free ways to hang your wreath include using easy-removable command hooks, suction cups, a piece of ribbon, or place it on top of the door knocker to avoid scratching or damaging your door. From sinister black crows to skull-adorned masterpieces, a spooky wreath on your composite door sets the tone for the eerie adventure that awaits inside. Or, if you fancy something a little more budget friendly, have a go at crafting your own.

5. Ghostly Gravestones:

Erect a mini graveyard in your front garden, complete with tombstones, skeletal hands emerging from the ground, and eerie fog machines. This is an excellent opportunity to get creative with DIY tombstone designs, giving your home a personalised touch of terror.  A great opportunity for half term papier-mache creativity. 

6. Petrifying Portraits:

Hang mysterious, ghostly portraits in your windows. These can be simple DIY creations or store-bought images of long-departed residents. They're sure to send shivers down your trick or treaters' spines.

7. Haunted Lighting:

Never underestimate the power of atmospheric lighting. Illuminate your entryway with eerie green or blood-red lights, casting shadows that play tricks on the eyes. Consider candle lit lanterns (in safe locations away from combustible items) or LED candles in black holders to create a ghostly ambiance. Another spooky, yet safe,  way to decorate, is to lace door or window frames with ghoulish fairy lights and safely attach the wires using small removable command hooks, designed specifically for the job.

8. The Finishing Touch:

To tie everything together, consider decorating the area around your composite door with freshly carved or whole pumpkins, scarecrows, and other Halloween-themed props. A pair of life-sized witches' boots sticking out from beneath your porch adds a whimsical yet spooky element.

Our composite doors and windows

With energy prices showing no sign of slowing down, replacing your current doors and windows with our high-quality, energy efficient composite doors and uPVC windows are a worthwhile investment. We understand brand new windows and doors are a major investment and we know that energy efficiency is now, more than ever, such an important consideration which is why we want our customers to be able to make informed decisions.

Manufactured and fitted by our sister company Composite Doors Yorkshire, our composite doors are designed to be strong, secure and exceptionally durable. They come in a wide range of contemporary and traditional designs, as well as different colours, glass options and accessories to add those all-important finishing touches. 

Featuring a solid timber core and thermo plastic door skins, they also have a Kommerling outer frame reinforced with galvanised steel and a state-of-the-art Astral S locking cylinder to ensure you are getting one of the safest and most secure doors on the market. These doors are a real investment and, unlike traditional doors, they do not fade or discolour, and require minimal maintenance to keep them looking fresh and flawless.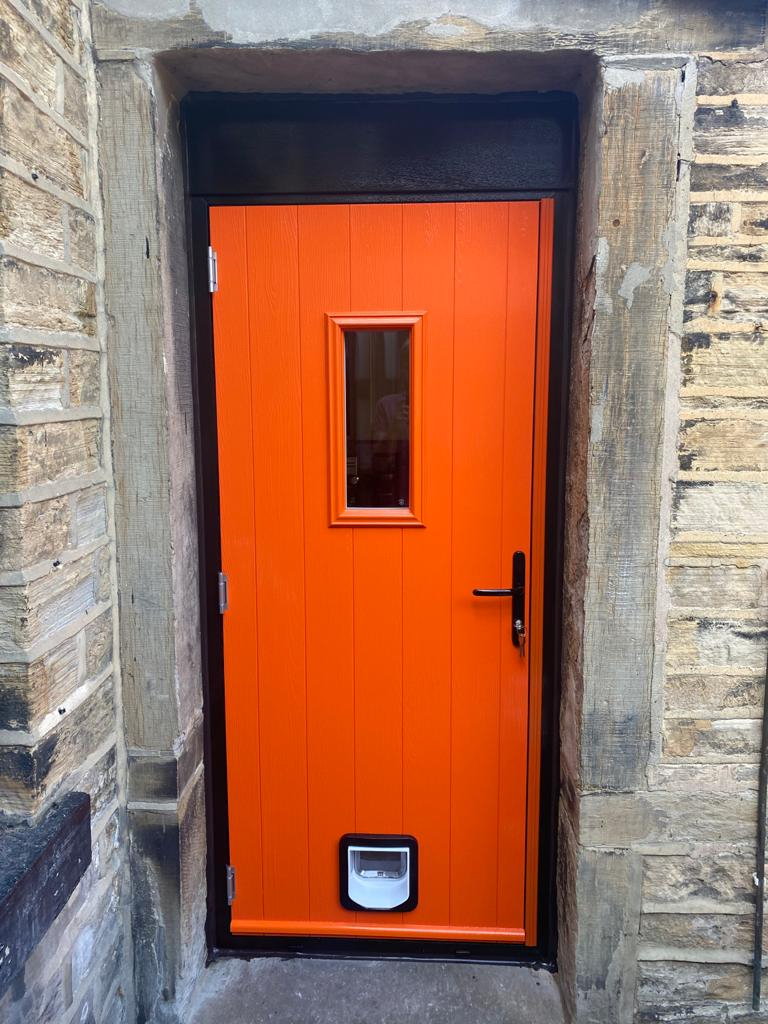 Let's take a closer look at our windows..

Did you know that we manufacture our uPVC windows here in the heart of Huddersfield, West Yorkshire, in a range of styles including double glazed patio windows, casement, flush sash, as well as tilt and turn windows with concealed locking mechanisms.
They also come in a range of weather-resistant foil laminated colours which can also be further customised with interior colour trims for a more subtle internal aesthetic.

Whilst you're browsing our website, why not download our new brochure. From different windows and composite door designs, to colours and door accessories, it's packed full of inspiration to help you decide. Also, if you're still unsure, why not contact us or come down and visit our Huddersfield based showroom where you can see our products in person and we'll be happy to answer any questions.

Now we've shared our spine-tingling tips, your home could well become the talk of the neighbourhood. Remember, Halloween is all about embracing your inner ghost or ghoul and letting your creativity run wild. So, whether you're hosting a spooky soirée or just looking to impress trick-or-treaters, give your home a frighteningly scary makeover this season.